Belize Room Descriptions for Ramon's Village
Here you will find a brief description of the accommodations available.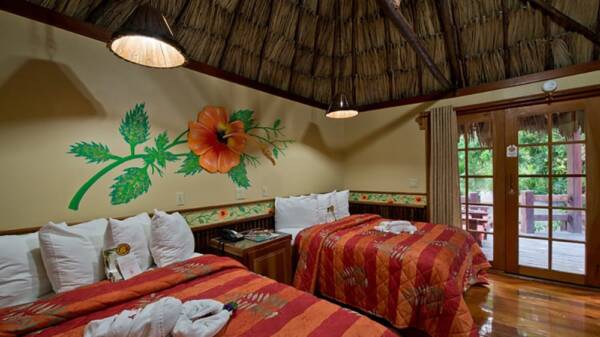 The Jungle Room is our lowest priced room. $2550.00 Double Occupancy
Our Jungle Standard cabanas are only steps from the shoreline of the Caribbean Sea where you will lose yourself in the dense jungle foliage that surrounds our Jungle Rooms. Guests staying in a Jungle Standard cabana can pick fresh plantains from their verandah, enjoy the many flowering shrubs or just sit and listen to the jungle life as it chatters back and forth.
These individual cabanas features Belizean mahogany floors, trim, and cabinetry, Palmetto wainscoting with hand painted borders, a private bath with shower, and table and chairs for two. A French panel door opens onto the verandah.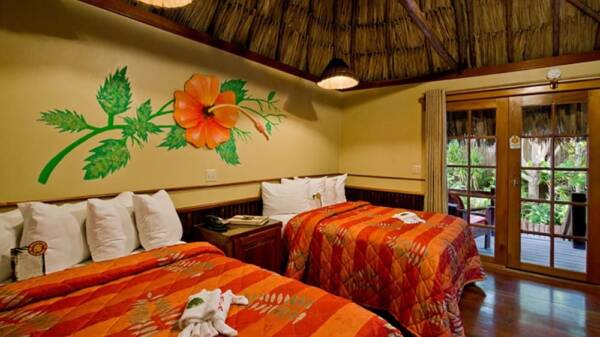 The Seaside Room is our most popular room and BEST VALUE. $2775.00 Double Occupancy
The Seaside Standard units offer two Full beds. These rooms feature Mahogany floors, locally handcrafted cabinetry, Palmetto wainscoting, a private bath with shower, and table and chairs for two. French panel door units open onto your own private veranda or balcony.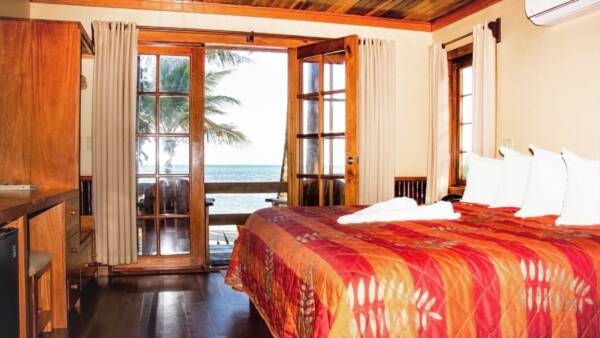 The Beach Front Double is our upgraded room for couples. $2950.00 Double Occupancy
Located on the lower level of our Two Story Cabanas and separated by an open air breezeway these Beachfront rooms provide stunning views of the Caribbean Sea and the Belize Barrier Reef. Each room is appointed with Mahogany floors, locally handcrafted cabinetry, table and chairs for two, and French Doors opening onto your beachside veranda. Recently remodeled to include larger showers with a bench and new Vanity tops. Our Beachfront King units feature a king bed and sleep two.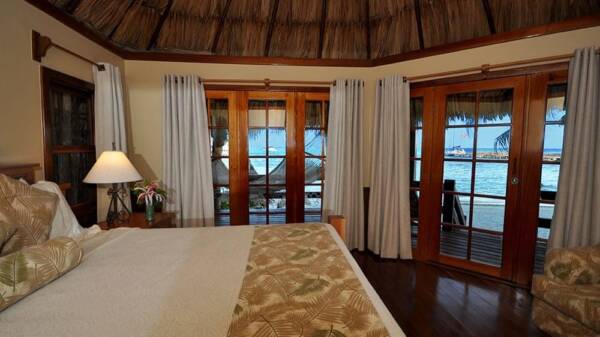 The Honeymoon Cabana (We only reserved 1 of these rooms left) $3150.00 Double Occupancy
These individual, Polynesian styled cabanas feature beautiful mahogany flooring and an exposed palm thatched roof throughout and are just steps from the warm waters of the Caribbean. Each Honeymoon cabana provides a private bath with shower, bar counter and refreshment center, sitting area, dressing table, king bed, and French windows and doors opening onto a private wrap around verandah with your own personal hammock and a fabulous view of the Caribbean Sea. The Honeymoon Cabana features a king bed which sleeps two people and is the perfect place to start your new life together!